"…because it is magical to wake up in the morning in Halong Bay"
said my best-friend-forever when I told him I was planning a trip to Halong Bay in December last year. The weather in Hanoi during December hovers just slightly below 20 degrees celsius. To me, this is the perfect weather to enjoy Hanoi and Halong Bay.
The itinerary planned by A Class Cruises for a 2D 1N trip to Halong Bay looked like this:
Day One
0800 Hotel pick-up
1230 Arrives at Halong Bay (1 x toilet break halfway through the trip)
1300 Check-in cabin and lunch is served as the ship starts to set sail toward Maze cave (We were onboard a 9-room Legend cruise). After the cave visit, the ship will bring us to a quiet lagoon where you are allowed to swim.
1700 Pre-dinner drinks at the sundeck. Mingling and making new friends. Since there were only nine rooms on the ship, you do not get more than 20 tourists at any one time. In my opinion, this is just right. Not too crowded and you still get to make new friends.
2000 After dinner, we tried to fish for squid. But unfortunately, we did not manage to catch any. There were some board games and a TV in your bedroom where you can watch movies stored on a USB stick.
Day Two
The next day, I woke up early because I wanted to watch the sunrise in Halong Bay. However, because the bay is surrounded by huge and tall rocks, you cannot see the sun rises from the horizon. Still, in the words of my BFF, it was magical.
0700 The guy that served you lunch and dinner last night was now your Tai Chi master.
0800 Breakfast
0900 Visit to Vạn Giá floating fishing village. Here you can choose to kayak and explore around on your own (the water was very calm) or be rowed around on a bamboo boat by the locals.
1030 We were back on the ship and showered before checking out of the cabin. 
1100 There was a short but fun cooking class activity before lunch. We were taught how to 'roll' spring rolls and they were later cooked as part of the lunch.

1230 The ship sails back to the harbour and that was the end of the 'magical' 2D1N cruise in Halong Bay.
Enjoy the pictures below!
Day one lunch.
Welcome drink / cocktail on the sundeck.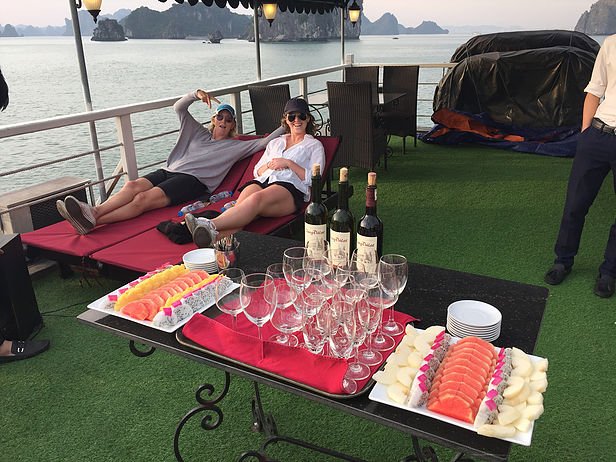 Dinner / Breakfast and Lunch menu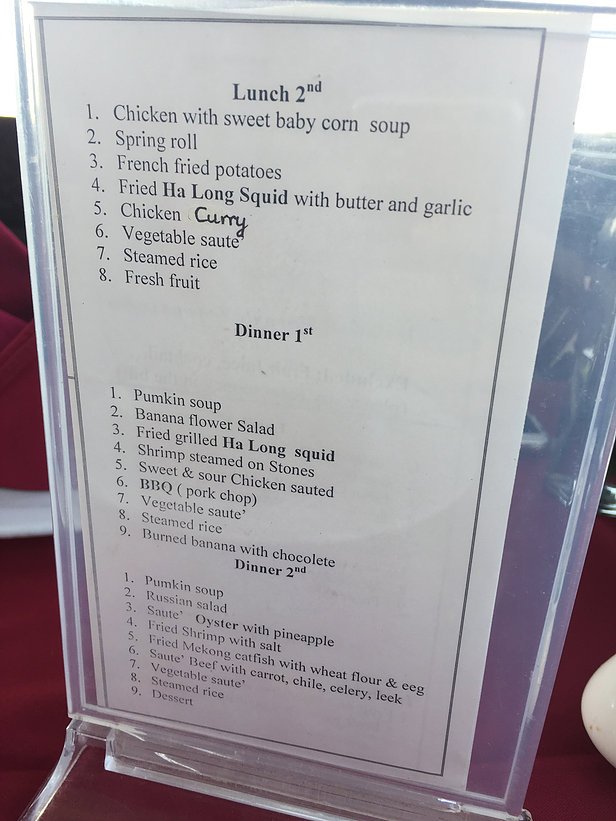 There were some 'dinner' performance by the chef on the way he cooked the prawns.
Breakfast was omelettes, toast or a bowl of Pho.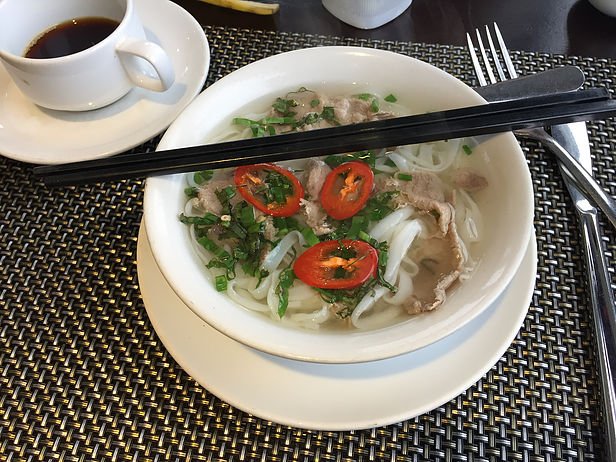 Cooking demonstration class

…and finally, before we disembark – lunch.